Chai Latte Cheesecake
Chai Latte Cheesecake
November 28, 2017
Part of being a baker and blogger is trying to master perfect composition and hunt for natural lighting to produce aesthetically pleasing images. Unfortunately, that isn't always possible, and I often have to resort to some ~ah~ alternative methods to produce pictures. Fortunately, my photoshoot for this post turned out a lot nicer than I had expected it to. Then again, given that this was taken in the fall, I can't say I'm too surprised.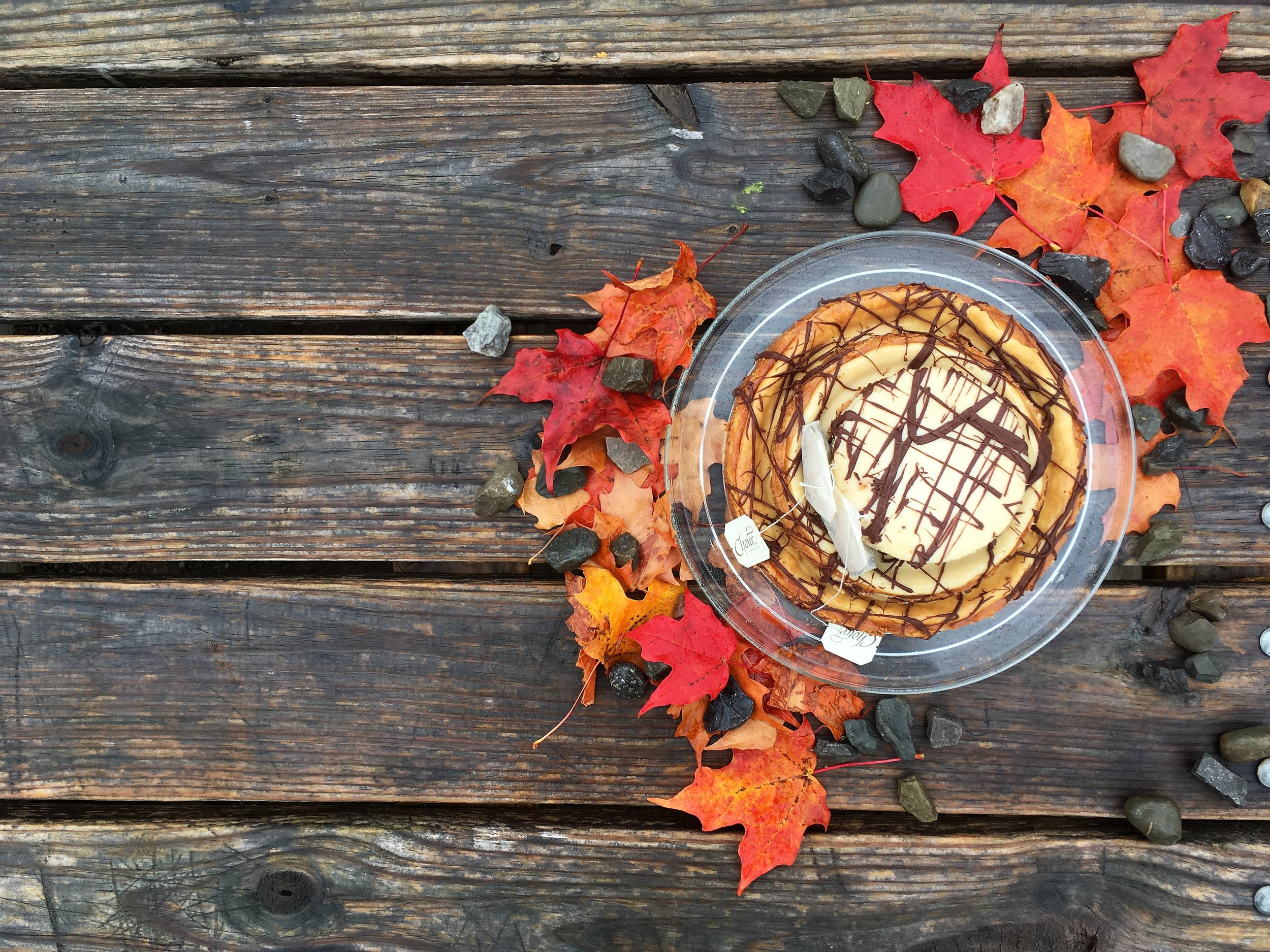 Cheesecake is my mother's favorite dessert. When I first made this recipe for her, she loved it so much she had me making at least three batches a week to share her love for cheesecake with her friends.
I feel like I don't spend enough time connecting with my parents, especially since I've gone off to college. As much as I love them, I think I just really needed some time to myself. Despite being a shitty son recently, I want to remind her that I am always thinking of her and I miss her so so much. And...now that I say that out loud, I definitely don't tell her that enough.
This cheesecake is flavored with a masala chai spice blend that gives a beautiful depth to the dessert. Since there is a hefty amount of cream cheese in this recipe, I would recommend using at the very least three tea bags just to make sure the flavors come through. I hope you enjoy this relatively simple recipe and now go to tell your mothers how much you love her.
Cheers,
Bradley
Ingredients
For the Crust
1 1/2 cups of honey graham crackers

2 tbsp brown sugar

4 tbsp of butter
For the Filling
900g cream cheese

1 1/2 cups of white granulated sugar

3/4 cup of whole milk, heated until just simmering

3 masala chai tea bags

4 eggs

1 cup of mascarpone cheese

1/4 cup of All-Purpose flour
To Garnish
Crust
Brown the butter in a saucepan over medium heat.

Pulse the graham crackers in a food processor until the mixture resembles breadcrumbs.

Combine the browned butter, graham cracker crumbs, and brown sugar until the mixture resembles wet sand

Using the bottom of a small cake tin or any other flat, round surface, pack the crust into a lightly buttered 12 inch cake tin. Refrigerate until ready to bake.
Chai Spiced Cheesecake Filling
Cream sugar and cream cheese until light and fluffy.

Steep the tea bags in the hot milk for approximately 15 minutes, make sure to extract as much flavor from the tea bags as possible.

Add the spiced milk in 3 additions, whisking in between each addition.

Over a double boiler, gently heat the mixture and whisk until there are no lumps.

Remove the mixture from the heat and whisk in the eggs one by one. Whisk in the mascarpone.

Take out approximately 2 cups of the filling and whisk in the flour until no lumps can be seen. Combine this mixture back into the filling and whisk until smooth
Assembly
Remove the cake tins from the fridge and fill with the cheesecake filling.

Bake in a preheated 315 degree oven until the middle of the cheesecake slightly wobbles when shaken (approximately an hour) and the edges of the cheesecake are a rich, golden brown.

Turn the oven off , leave the door ajar, and let the cheesecake cool to room temperature in the oven.

Refrigerate for at least 6 hours before serving.

Drizzle with tempered milk chocolate.
Bradley Chen