Mango Passionfruit Margaritas & Honey Rosemary Vodka Sodas
Mango Tajin Margaritas & Honey Rosemary Vodka Sodas
May 3, 2018
I am so happy to be launching a drinks section on Brad & Butter this week. Being involved with the bar team at Hotel Ezra Cornell really allowed me to appreciate mixed drinks. And even more exciting is we're doing not one but TWO recipes this week to celebrate this occasion. You may have seen on my Instagram story, but Cornell feels like a completely different environment under the sun. With my Seasonal Affective Disorder behind me, I can finally focus on appreciating the important aspects of my life: my family and friends.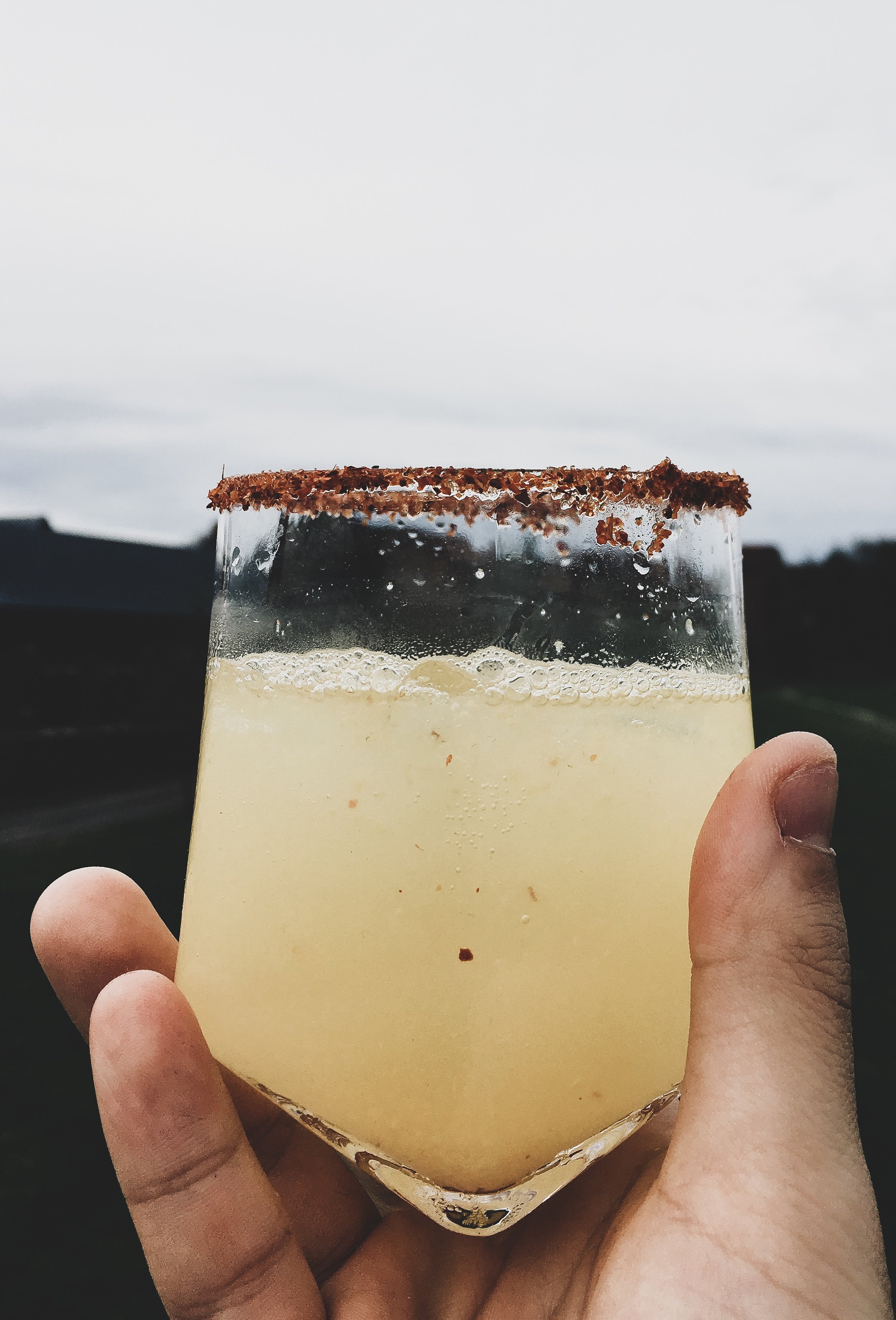 To kick off this new section of Brad & Butter, I decided to use ingredients that reminded me of summer, given Ithaca has decided to completely skip the spring season. Mango & Passionfruit is a classic combination that can never go wrong, and the tang from the tajin really brings out the tropical flavors of the fruit. The second drink my personal favorite and features honey and rosemary as the primary flavors. It has a deep, earthy taste that is surprisingly satisfying. Last but not least, both drinks feature LaCroix sparkling water, so a huge shoutout to making these drinks taste amazing.
I decided to create a section on drinks not only to share my love for *ahem* a certain intoxicating substance, but also to foster more celebration on Brad & Butter. This recipe and post is really dedicated to all the seniors at Cornell who have made the past year so much more bearable. Without your support, my first two semesters at Cornell would probably have convinced me 100% that I needed to transfer.
It's this time of the year where people tend to come and go. Whether it be in high school, college, or even in the real-world, remember to thank those who have impacted the way you think and behave. At the same time, use that inspiration to welcome new people into your circle. At Brad & Butter, I always hope that I can inspire people through those that have inspired me. I implore you to do the same.
To all of you, you know who you are, I raise my glass(es) to your kindness and positive influence, but also to your successes in the future! I hope you leave this campus knowing that you have left a huge impact, and if not, let me explicitly tell you that you have. Fortunately, since most of y'all are moving to the city, it won't be too much of a hassle for me to visit and I guess I'll have a legitimate excuse to do so more often. See you all soon!
Cheers,
Bradley
Ingredients
For the Mango Passion-fruit Margarita
1.5 oz of silver tequila

1 oz of mango puree

0.5 oz of lime juice

1 oz of simple syrup

Passion-fruit LaCroix

Tajin
For the Honey Rosemary Vodka Sodas
1.5 oz of vodka
.75 oz of honey-rosemary syrup
Lemon LaCroix
Mango Passion-Fruit Margaritas
Run a lime wedge around the edge of the glass you will be serving your drink in and dip the rim in tajin. Fill your glass with ice.

In a shaker filled with ice, combine the tequila, mango puree, lime juice, and simple syrup until the condensation begins to form around the shaker.

Strain into the prepared glass and top off with passion-fruit LaCroix
Honey Rosemary Vodka Sodas
Fill your glass with ice and simply build the drink in the prepared glass (pour ingredients straight into the glass)
Bradley Chen