Black Bean Rotini with Brown Butter Roasted Tomato Sauce
Black Bean Rotini with Brown Butter Roasted Tomato Sauce
July 24, 2019
A couple days ago my friend asked to have an indoor wine & dine night so she could learn some skills to impress her man. Naturally, being a sucker for all things love, I thought her intentions were sweet and I agreed immediately. I also just needed an excuse to make pasta and quench my thirst for carbs.
So as I scrolled through the internet to find a simple yet impressive pasta recipe, I found a recipe by one of my favorite YouTube stars: Donal Skehan! I've always loved Donal's channel because he incorporates ease into most of his recipes, making all of his dishes accessible to people of all cooking levels. Inspired by the notion that everyone should be able to make pasta, I took to his tomato sauce recipe featuring brown butter.
This pasta sauce is so simple and only sports three ingredients that are all pantry staples. The natural juices from the tomates emulsify with the nutty, earthy browned butter to create this beautifully thick sauce perfect for coating pasta with. To spice things up a bit (no pun intended), I added chili flakes and sliced garlic to cut through all the delicious brown butter. But what I love about this recipe is that it can be customized to what you like. If you think the sauce needs more tang, add some lemon or lime juice. If you want a creamier sauce, throw in some cream or greek yogurt. Whatever type of pasta you're feeling, this sauce has got you covered.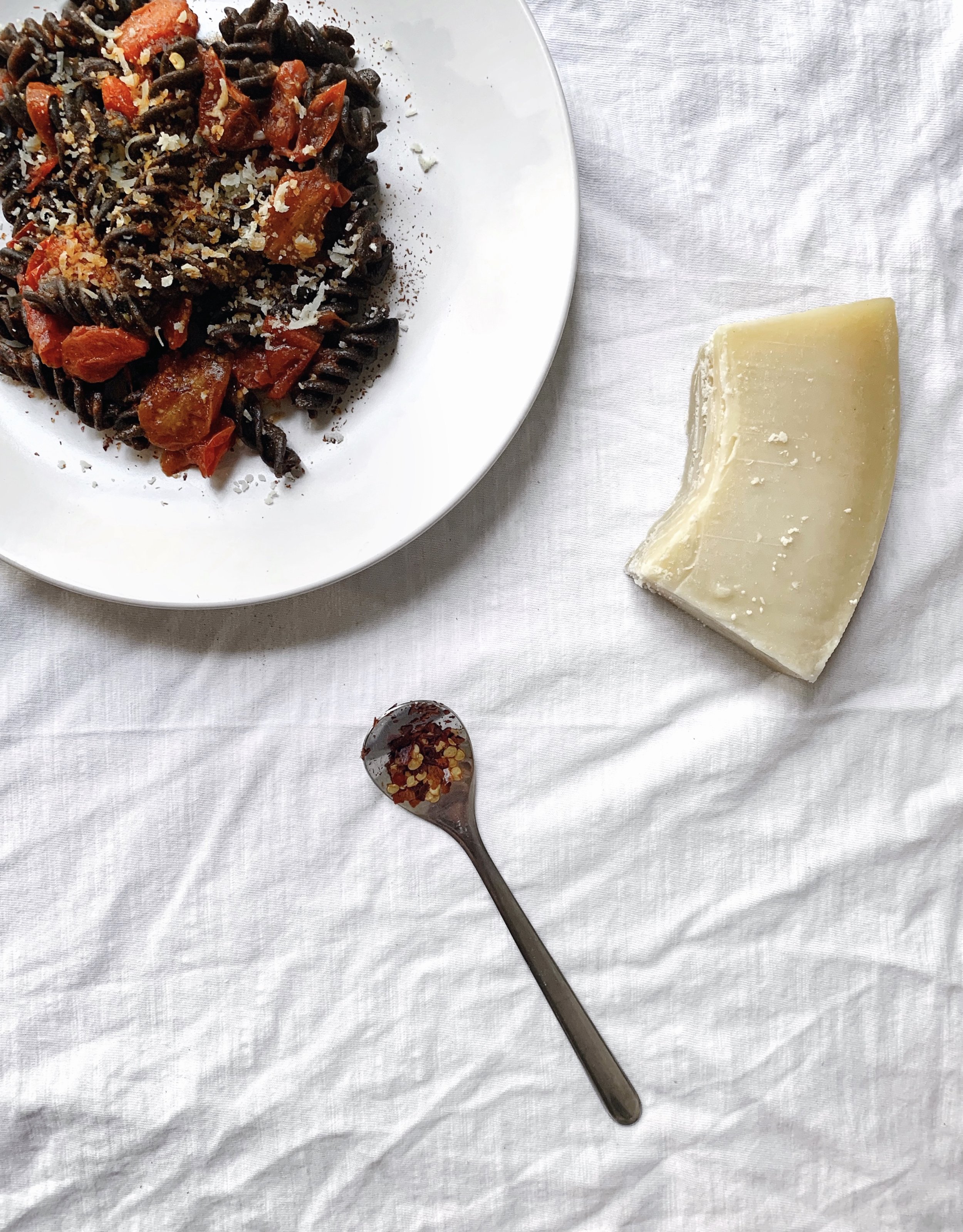 Black Bean Rotini with Brown Butter Roasted Tomato Sauce
Brad & Butter | Jul 24, 2019
For the Pasta
1 cup

black bean rotini

(or any other pasta)

3/4 cup

cherry tomatoes

(halved)

3 tbsp.

unsalted butter

1 tsp.

chili flakes

1 clove

garlic

(thinly sliced)

salt

(to taste)

pepper

(to taste)

To garnish (optional)

parmesan cheese
For the Pasta
Bring a pot of water to a rapid boil. Add a copious amount of salt and boil the pasta until al dente. About 8 minutes.
While the pasta is cooking, melt butter in a saute pan over medium high heat. Brown the butter until it begins to produce a nutty aroma and is visibly darker. Add in the chili flakes and halved cherry tomatoes. Season with a pinch of salt.
As the cherry tomatoes break down and release their juices,add in the sliced garlic and swirl the pan to emulsify the butter and tomato juices to create a sauce.
Once the pasta is al dente, drain and add into the saute pan with the brown butter tomato sauce. If your sauce begins to break due to heat, throw in a cube of ice and continue mixing until the sauce thickens again.
Serve with desired protein, roasted vegetables, and shaved parmesan or pecorino cheese if desired.
Date night is served!
Bradley Chen